You must have heard a lot about the importance of visuals in digital media and content, but what are the significant reasons that make graphics necessary? Graphic design is used across verticals to grow businesses. Brands can leverage graphic designs in several ways, and the versatility offered makes it a valuable digital asset.
Graphic design is a critical element in any well-rounded content marketing strategy. Text and data may be at the heart of your message, but the visual elements included in any message immediately impact the finished product.
Outstanding design features used by your Business will stop your viewers during their fast-paced scrolls. Consider a few compelling reasons for investing in exceptional design.
● Design Will be Your Own Sales Pitch:
Customer engagement has something to do with design. The design gives a customized and personalized look to your brand, whether it is the logo, brochure, company advertisement, or website. It also creates the first impression in front of your consumers. Good graphics design builds trust. According to a study, the factors responsible for the rejection of a website include design and content. Out of which, 94% is design-related, and 6% is content-related.
Design plays a significant role in driving consumer decisions of going with a particular brand. Adobe says that the companies which foster creativity enjoy 1.5x more significant market share.
● Your Business will be in Trend:
You must have noticed; renowned brands refresh their images. It can be an effortless change to their color code, logo, and alteration in the tagline. Changes done to the design helps brands stay in trend. Staying in trend is critical. Your brand will be appealing if your consumers and consumers see it adhering to the trend and keeping up with the times. The marketplace has tough competition, and design along with modernized branding helps brands stand out among the competitors.
A simple update to the logo will help your brand appeal to a whole new audience and create excitement amongst the consumers.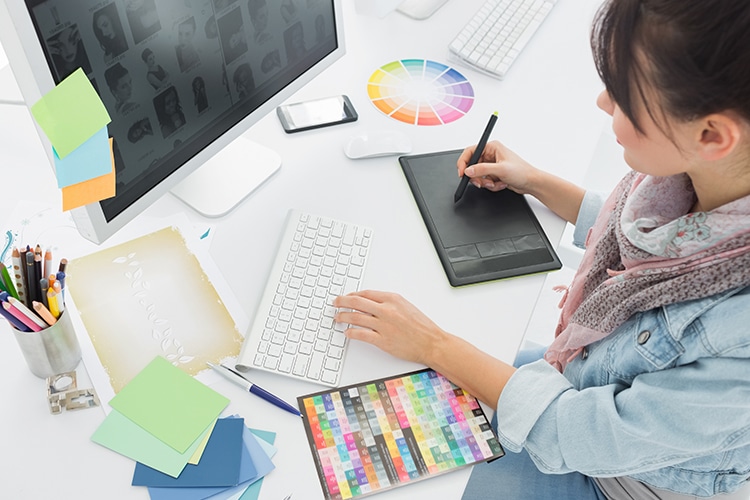 ● Graphic Designers are Masters in Their Field:
Graphic Design is a profession, and the professionals working in this field are more inclined towards creativity and innovation. They have studied the ins and outs of this field and may also have prior experience in the industry.
They are well-versed in understanding the concepts such as contrast, balance, color, and scale. That said, they are the right fit for doing this kind of job. Naturally, you would not go to a plumber to get your car fixed, then how can you trust an inexperienced person with the design of your brand.
● Design Helps to Communicate the Message of Your Brand Clearly:
When working with a local team of designers, you can sit with them to discuss the type of design you are looking for. When you sit together, you can discuss the ideas and devise concepts together.
When you hire designers, you will get to know more about them, and at the same time, they will understand your brand better, its message, etc. They will also get a clear idea of what your business goals are.
Face-to-face meetings help businesses obtain meaningful relationships, and they build stronger connections. It reduces miscommunication as well. Business executives prefer face-to-face communications, and they also say that human interaction is critical.
● People will remember Good Design for Long:
You don't want your consumers to forget your brand. No doubt, good design is memorable. How many times have you come across a brand but are not able to remember its name? It usually happens because we often remember visual cues, including the product's packaging, colors, and shapes used in their logo.
Consumers usually do this subconsciously, mainly when certain emotions are triggered.
If you create a unique design and subsequent message, your brand will most likely get stuck in the head of your consumers.
For instance, if we consider McDonald's', the creation of golden M, with a distinct shape and color, the brand has successfully created an easily recognizable design, making their brand memorable.
A great design, once created, is sure to stand the test of time and will also eliminate the need to invest in a new one.
Great Graphic Design is Worth the Investment!
Preliminary graphic design will not translate well. Each of us is inundated with marketing messages, and it is not required to mention that the attention span of consumers has reduced more than ever.
Ensuring the right graphic design is crucial for a brand. Keeping the present landscape in mind, there is no way your brand will be recommended if you don't have good branding in place. The first impression is crucial, and if you cannot entice your visitors, it won't be easy to get a second chance.